John O'Neil - Reviews
"O'Neil inhabits each song as if it were a story, caressing each shimmering note. An evening of cabaret from O'Neil is a master class on how to sell a song."

Boston Arts Review - November 2013

"We don't hear John O'Neil nearly often enough so this past weekend was reason for celebration. O'Neil is cabaret royalty and can tear at your heart and tickle your funny bone with equal skill. All anyone could say at the end of the night was 'More. Give us more ... soon!' "

Boston Arts Review - March 2011

"John O'Neil is a cabaret sensation."

Boston Magazine - October 2006

"O'Neil brought back his very gay, very campy style into a show (Not That You Asked) that mixed song and stand-up comedy into what was hands down, the best cabaret show of the year."

Edgeboston.com - December 2005
"He dazzles with a nifty floor pounding flamenco, while celebrating Danny Kaye's comic genius in The Court Jester - then reduces us to rubble with the "poison pellet" shenanigans - and thrills and amazes with the tongue twisters Kaye was so famous for."
TheaterMirror.com - December 2005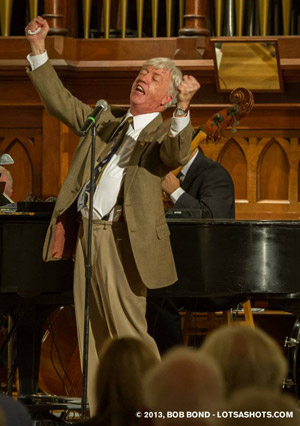 "Not That You Asked marks the triumphant return of O'Neil, in what is likely to be the year's best cabaret show. May he never leave again."
Cabaret Scenes - June 2005
"O'Neil is irascible. He's irreverent. He's irresistible. Not That You Asked turns out to be the best show of the season so far, cabaret or comedy, theater or soapbox."
TheaterMirror.com - April 2005
"John O'Neil ... [gave] a 'true-O'Neil' performance that did not disappoint the crowd; funny, engaging and a master at his craft."
Cabaret Hotline Online - April 2005
"O'Neil's most touching number comes in the form of Yiddish standard 'Oif'n Pripetshik' ... This guy can milk a number like the best Jewish mother."
Archikulture Digest - April 2005
"One of New England's finest cabaret actors"
Niagara Falls Gazette - May 2004
"John O'Neil's 'Danny Boy' in Back to Enniskillen is one of 2004's memorable cabaret moments of the year."
Bay Windows, January 1, 2004
"Take a jigger of Noel Coward, add a twist of Fred Astaire and the bitters of Danny Kaye. Shake, don't stir. Pour generously into cabarets throughout New England and be intoxicated by John O'Neil."
WOMR Radio - 2002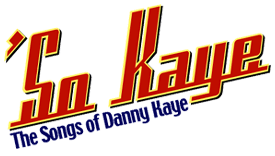 "O'Neil looks the picture of composure. His new cabaret is a tribute to Danny Kaye called 'So Kaye. O'Neil comes across as a favorite uncle: urbane, dashing, witty, a man-about town, and O'Neil celebrates the ebullient funny man in Grand style. O'Neil shows off his funnybone (and his sly Noel Coward-ish delivery) in 'The Fairy Pipers,' which also contains a duet for piano and whistler (O'Neil can do everything!). O'Neil knows his way around a lyric and can handle a dramatic monologue as powerfully as he can bring a song home. That's one extraordinary performer."
The Theater Mirror, November 2001
"John O'Neil brought the house down with the sensational mini-oratorio 'The Ship Sailed On.'"
Theater-mirror.com, March 2001
"O'Neil has grown from funny sidekick pianoman to one of Boston's finest cabaret performers. Camp Songs is an intelligently constructed show that O'Neil delivered with impressive ease, considering the tongue twisting, lyric-heavy nature of his song selection. His trademark charm, wit and heart were in abundance that night."
Bay Windows, January 2, 2001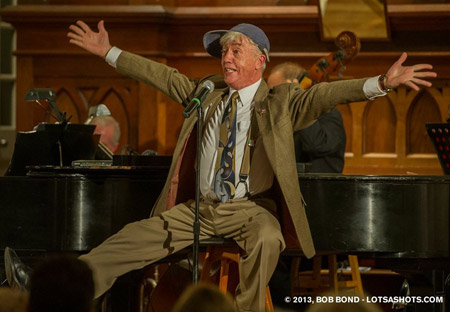 "John O'Neil is a very fine performer that excels in comedy as well."
Cabaret Hotline, January 2001
"One of the true ironies of the show is that O'Neil, in his own way, has so many of the qualities that he is lauding in Kaye. He has tapped beautifully into the legacy of laughter and love Kaye left behind for the child in all of us. Don't miss it."
Digital City Boston, November 16, 2000
"John O'Neil makes a marvelous Danny Kaye. I can't imagine a Boston-area performer other than O'Neil mounting a Danny Kaye Tribute and pulling it off with such humor and jaw-dropping patter songs, making the evening completely entertaining and worth seeing."
Bay Windows, November 16, 2000
"In his cabaret show Songs My Father Never Sang To Me, John O'Neil created a sensation with Ernie Lijoi's 'Chandler Street.'"
Theater Mania.com, June 14, 2000
"John O'Neil took to the stage amazing the audience with his command performance of complex lyrics and comic-timing. John O'Neil showed his full range but it was his engaging performance of the gem 'Disneyland' that O'Neil's full heart was revealed, drawing the audience into his story building moment upon wonderful moment."
Theatermania.com, May 17, 2000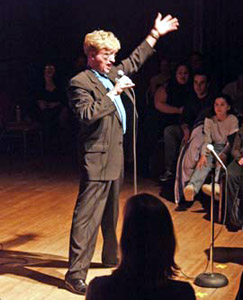 "O'Neil was immediately likeable at his best when wearing his heart on his sleeve. O'Neil deftly created one of those pin-drop moments all the while showing that simple lyrics can have meaning on many levels. O'Neil has a warm Peter Allen-like voice that rang with sincerity throughout. Anyone that knows O'Neil also knows that his is a funny man. His physical comedy and dead-pan antics came into play in a full blown musical version of the Titanic."
Bay Windows, September 29, 1999
"John O'Neil - one of the Boston area's most colorful performers."
Theatermania.com, March 1999
"The campy element is a highlight and I would like to see more of it because many of the songs are very clever and funny. My recommendation is to go and hear O'Neil perform."
Provincetown Magazine, July 11, 1996
"John O'Neil is number one!!! Good music, marvelous entertainment and a good time is what is offered by this 'cup of champagne and master of the piano:' John O'Neil."
Day and Night, November 1994
"O'Neil doesn't seem to forget a face or a special moment. Whether acting as accompanist or playing a requested tune, he always seems to be there for others - SANS ego. It's not often that such a defined talent reaches out to touch others. John O'Neil is a secret that should not be kept."
The Boston Reader, July 1992
Home | John O'Neil | Schedules | Recordings | Videos | Reviews | Press | Interviews | AtLast! | First Mondays | Photos | Contact