John O'Neil - Press
Boston Arts Review 11/13 | Boston Arts Review 3/11 | TheaterMirror 12/05 | Cabaret Scenes 6/05 | TheaterMirror 4/05 | Archikulture Digest 4/05 | Bay Windows 10/02 | Brookline Tab 3/01 | Bay Windows 11/00 | TheaterMirror 11/01 | Digital City Boston 11/00 | Bay Windows 10/99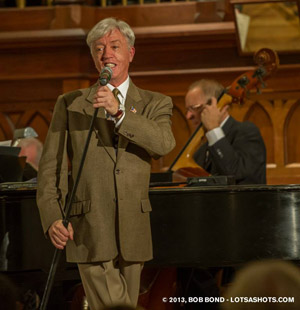 Boston Arts Review, November 6 2013
Quick Take Review – So Sweet!
by Beverly Creasey
John O'Neil was top of his game this past weekend, performing 'So Kaye, his delightful cabaret tribute to Danny Kaye, at American Classics. He's been doing the show for thirteen years and rumor has it, this may be the Last Time. (Then again Richard Kiley did more than a few "Last Ever" Man of La Manchas so who knows?)
O'Neil inhabits each song as if it were a story, throwing his imaginary hat happily into the air in "Breezin' Along With the Breeze" or caressing each shimmering note in an especially poignant, sorrowful "Molly Malone." An evening of cabaret from O'Neil is a master class on how to sell a song.
He whistles a lively duet with Zachary Chadwick's flute in "The Fairy Pipers" and tears down the house with "Minnie the Moocher." Jim Rice's small, tight orchestra has a big sound, with Mick Lewander on drums, John Styklunas on bass and Dave Burdett on trumpet, making the rousing Cab Calloway showstopper the hit of the performance.
O'Neil was joined by the chipper Meg O'Brien for a lovely, jazzy, syncopated "Lullaby in Ragtime" (composed by Kaye's wife, Sylvia Fine) and she played "straight man" in the pièce de résistance for Kaye fans, the "Chalice with the Palace" tongue twister from The Court Jester.
Boston Arts Review, March 2011
It Might As Well Be Spring
by Beverly Creasey
Boston has missed chanteuse Jan Peters. And we don't hear John O'Neil nearly often enough, so their reunion cabaret this past weekend was reason for celebration. Add to that the news that Peters is moving back this month, and the audience was ecstatic. Throw in the Jim Rice Trio, and you have a classy, jazzy and "Impossibly Lyrical" evening of song.
Peters is queen of the smooth, silky delivery and O'Neil is cabaret royalty. Both can tear at your heart strings and tickle your funny bone with equal skill. They both know how to "work" a crowd: O'Neil with his delicious spoof of Broadway musicals and his delightful, laugh filled "Don't You Hate It When They Make You Sing Along" (We didn't, and we did!) ... and Peters with her heroic "save" of "Ring Them Bells" when a naughty audience member tried to upstage her. (Not bloody likely!)
All anyone could say at the end of the night was "More. Give us more ... soon!"
TheaterMirror.com, December 2005
Boffo Birthday Bash at Wheelock
by Beverly Creasey
John O'Neil is fifty, and the Wheelock Family Theatre is twenty-five. It's awfully hard to believe that either of these facts is true. O'Neil still scampers about like a nimble leprechaun and it doesn't seem possible that Wheelock has entertained three generations of theater-goers, but the little children I took with me years ago are finishing college! If you missed the Birthday Bash at Wheelock this past weekend, you missed out on some delicious high-jinks, supplied by John O'Neil and company.
Word to the wise: Do not miss any of Wheelock's upcoming productions (including a new musical by Jane Staab and Sue Kosoff, based on the beloved children's classic, The Little Princess.) Wheelock produces professional productions with theater prices so modest that you can bring the whole family.
And keep your eye out for the next time John O'Neil does his Danny Kaye tribute. James Brown may be the hardest working man in rock 'n roll, but O'Neil surely holds the title in cabaret. He dazzles with a nifty floor pounding flamenco, while celebrating Danny Kaye's comic genius in The Court Jester (Rent it if you haven't seen the movie a hundred times.) - then reduces us to rubble with the "poison pellet" shenanigans - and thrills and amazes with the tongue twisters Kaye was so famous for.
He brought the house to a hush for his achingly sweet "Danny Boy" and whistled like a world champion (Yes, there is a tournament for whistlers) in the "Fairy Pipers" song, which contained a dazzling duet for whistle and piano. Speaking of pianos, what a good fortune we had to hear the Jim Rice trio. Rice can make a song like "Thumbelina" sound like an aria, so tight is the accompaniment.
O'Neil is a showman. He can deliver a Yiddish lullaby to warm your "herz" and then corral the audience into a call and response for a jivin' jazzy "Minnie the Moocher." He can charm the kiddies in the audience and wow the adults with his silver melt-in-you-mouth, "fine, soft" (as they say in Ireland) voice. (That's the only silver on the troubadour. The hair is still the best in the business, and it's still blond!)
He ran an improvised race with the sub-title lady and beat her in the double time chorus, "never losing his velocity," as the song goes, in the adorable "Let's Not Talk About Love."
Special guest Nina Vansuch sang her devotion to O'Neil and lucky, lucky us, we were all invited to the party!
Cabaret Scenes, June 2005
Asking and Singing
John O'Neil brings new panache to cabaret stage
by John Amodeo
The John O'Neil we had known and loved for many years, marvelous, and wickedly wacky, had disappeared for several years while making a cottage industry out of his two very successful cabaret shows, So Kaye: The Songs of Danny Kaye, and Back to Enniskillen, both long on mainstream commercial appeal, but short on O'Neil's special sparkle. Well folks, I have good news. He's back, with a vengeance, and not a minute too soon. His new show, Not That You Asked, which he performed recently at the Cambridge Center for Adult Education and will soon showcase elsewhere, expertly targets O'Neil's pet peeves, from SUV's, cell phones, and flip flops, to Walmart, and the Catholic Church. "Someone's going to get hurt tonight, and its not going to be me," quips O'Neil.
His show, a perfect mix of stand-up comedy, song, and personal anecdote makes great use of O'Neil's dry comic flair, flamboyant charisma and theatrical way with a song. So outrageous is the humor, the show comes with a PG-13 warning. The profanity that peppers the show would be crass in lesser hands, but alchemist O'Neil spins four-letter words into comic gold, especially in Ray Jessel's "Life Sucks (And Then You Die)," which morphed into a hilarious audience singalong.
Antics ensue in Michael O'Donaghue's witty "Let's Talk Dirty to The Animals," later reprised to great audience approval as "Let's Talk Dirty to the Republicans." When we thought we couldn't laugh anymore, O'Neil pressed on with Jessel's zany roast of German angst, "That Old Kurt Weill Song," replete with German accent.
O'Neil is not afraid of lyrics, and in fact treats them with great care, deftly phrasing to convey meaning, as with John Bucchino's "Painting My Kitchen," where he illuminated the songs message, "Life's not a coat of many colors, it's a color of many coats." O'Neil waxed dramatic, as well, with an emotionally naked "I Don't Remember Christmas," (Maltby/Shire) and a poignantly apt "Now You Know" (Sondheim).
But it is his closing number, Kirby Tepper's epic song, "The Ship Sails On," about a pair of lesbian seagulls on Noah's Ark, where O'Neil's humor and heart combined to great effect. Director Ida Zecco skillfully kept the pace up, while helping to shape the show's well-formed arc. Jim Rice lent his magic fingers at the piano.
Not That You Asked marks the triumphant return of O'Neil, in what is likely to be the year's best cabaret show. May he never leave again.
TheaterMirror.com, April 2005
John O'Neil: Telling It Like It Is: Hilarious
by Beverly Creasey
You know John O'Neil. He's the consummate professional, winning kudos for his delightful Irish show and his loving Danny Kaye tribute, not to mention that he has the best hair in the business. Well, hold onto your hats. This past weekend (at the Cambridge Center for Adult Ed) he let his hair down and his claws out for his hilarious one-man demolition derby called Not That You Asked.
His delicious paean to pessimism includes the riotous Ray Jessel ditty, "Life Sucks and Then You Die" and the sensational, drop dead ribaldry of "Let's Talk Dirty to the Animals" (by Michael O'Donoghue)...which O'Neil later on morphs into "Let's Talk Dirty to the Republicans!" I haven't had so much fun since I saw Noel Coward holding forth years and years ago. O'Neil is irascible. He's irreverent. He's irresistible. I hope he never goes back to being "nice."
Ida Zecco directs the devilishly clever evening of "anecdotes and novelty songs" with a deft hand at comedy. O'Neil is aided and abetted by the fabulous Jim Rice -- who should get a special award for keeping a straight face while O'Neil is convulsing the rest of us. Not That You Asked. turns out to be the best show of the season so far, cabaret or comedy, theater or soapbox.
Just when your abdomen is cramping from all the hysterical laughter, O'Neil bends his notes in that despair-ridden, disdainfully German way for Jessel's "to die for" "That Old Kurt Weill Song." No one has ever delivered wickeder Weltschmertz. And no one does tongue in cheek better than O'Neil's raucous "Pour Me a Man."
If all this merriment were not enough, O'Neil shifts gears and shakes us to the bone with his heartbreaking "I Don't Remember Christmas," Maltby/Shire's devastatingly sad response to a breakup. Just when we're reeling from his Oscar worthy finale ("And I don't remember you!") to the song, he's back into first gear. We haven't recovered, but he has. He's moved into the next number (Sondheim's "I Could Drive a Person Crazy") while we're still looking for a hankie.
So, as O'Neil sang and Sondheim wrote, "Now You Know." When you hear that Not That You Asked is being performed again, just ask one thing: Where!
Archikulture Digest, April 2005
'So Kaye: The Songs of Danny Kaye
Performed by John O'Neill and Jim Rice
Orlando Cabaret Fest
Mad Cow Theater, Orlando Fla.
by Carl F. Gauze
So, raise your hand if you remember Danny Kaye.... I thought so, not many of you recall this multitalented musician and actor from the mid 20th century. Kaye started in the Catskills back in the 20's and went on to a life long career of film, television, orchestral conducting, and just plain singing. While not as well known as he ought to be, Boston based entertainer John O'Neil has a fascination with Kaye, and mines this deep vein of material. Backed by pianists Jim Rice and glass of water, he revives a dozen and a half of Kaye's best works in this fun little show at the 3rd annual Cabaret Fest.
Mr. O'Neil is a slight man with blonde hair done in the wavy style I associate with Danny, and his pleasant tenor brings back sounds from 50 years ago. You've likely heard the standards such as "I'm Hans Christian Anderson" or "Wonderful Copenhagen", but you'll find the more obscure tunes like "Frim Fram Sauce" equally engaging. Kaye was a master of wordplay, and the tinge twisting "Tschakowsky" reminds one of Tom Lehrer's equally obscure "Lobachevsky". O'Neil's most touching number comes in the form of Yiddish standard "Oif'n Pripetshik" accompanied by a tearful story of the Holocaust. This guy can milk a number like the best Jewish mother.
Time flies in the hour we are allotted as O'Neil polls the audience for Kaye stories and needles us for not being Irish enough. We learn a few things ourselves, such as that the almost but not quite risque version of Cab Calloway's "Minnie the Moocher" was one of Kaye's favorites. Cabaret is back in Orlando, and Mad Cow is pulling more and better out-of-town talent to supplement our local singers. You should note that Mr. O'Neil is doing two shows this series, the family freindly "'So Kay", and a more adult themed program for the wilder set. Drop by either one; you'll be impressed.
Bay Windows, October 31, 2002
Kaye sera sera: John O'Neil taps into the rich lore of forgotten Danny Kaye
by John Amodeo
Danny Kaye (1913-1987) was one of the finest renaissance actors of the 20th century, having successfully mastered the arts of singing, dancing, acting, and comedy in every venue from Vaudeville and Catskills' Borscht Belt to Broadway, Radio, Television and Hollywood Films. He is probably best remembered for his goofy charm in such musicals as White Christmas, The Court Jester, and Hans Christian Anderson. His irrepressibly sprightly demeanor offered gentle assurances to generations of adolescent gay males, and gave rise to unsubstantiated rumors of closeted homosexuality. He left behind a huge musical legacy that went largely unmined until recently when local cabaret marvel John O'Neil began performing his own insightful and entertaining tribute, So Kaye: The Songs of Danny Kaye, which he has now delightfully packaged on CD in a smartly packaged and highly listenable abridged form.
Here, O'Neil captures the essence of Kaye's witty wordplay, mischievous charm, and boundless compassion, qualities which O'Neil himself possesses. From the effervescent opener, "I'm Hans Christian Anderson," to the poignant "Molly Malone," O'Neil displays great range vocally and emotionally, judiciously reserving his buttery belt for "Life could Not Better Be," written by Kaye's wife, Sylvia Fine, for "The Court Jester," and the swinging "Lullaby in Ragtime/Goodnight Sleep Tight," marvelously sung with guest vocalist Valerie Sneade. Sneade sparkles even more so on "No Two People," where she and O'Neil sing cute, blending their honeyed voices to great effect.
Musical director Jim Rice's arrangements are colorful and appropriately amusing, especially where he gives Cole Porter's "Farming" a playful Dixieland sound, and lends a Latin lift to "Coca Roca." This nutshell recording of O'Neil's show may be a bit of a teaser with only nine selections, but all are well chosen and well performed, and as any star should do, truly leave you wanting more.
Brookline Tab, Thursday, March 8, 2001
John O'Neil and 'So Kaye' nominated for an IRNE award
Brookline resident John O'Neil has been nominated for an IRNE award in the category of Best Cabaret Show - 2000 for his performance of his one man show 'So Kaye, The Songs of Danny Kaye.
The IRNE award is presented each year to outstanding theater and cabaret productions by The Independent Reviewers of New England representing such diverse publications as Back Stage, The Boston Herald, The Boston Globe and Community Newspaper Company.
0' Neil was nominated alongside Betty Buckley, Bobby Short, Michael Feinstein and Rita Moreno. In addition to this honor, another of O'Neil's shows, "Camp Songs," was named one of last year's 10 best cabaret shows by Bay Windows newspaper.
O'Neil will present encore performances of "'So Kaye" as part of Cabaretfest! in Newburyport on March 24, and at the grand opening of the new Brookline Senior Center later this spring.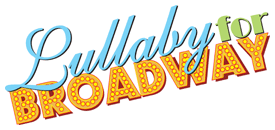 Bay Windows, November 16, 2000
In love with Danny Kaye:
One of the few local artists who could 'do it all,' John O'Neil makes a marvelous Danny Kaye
by John Amodeo
My first childhood recollection of Danny Kaye was as the host of the annual broadcast of the "Wizard of Oz" on network television. Just prior to the beginning of the film, he would come skipping gaily (very gaily) down a mock set of the Yellow Brick Road and in the most sprightly fashion introduce what was then my all-time favorite film. One could love a man like that, and I did. As I matured into early adolescence, and my tastes became more discerning, I sought out other Danny Kaye vehicles, and discovered that he was not only sprightly, but that he was one of those rare Hollywood talents who could sing, dance, be a master comic and yet enthrall you just as skillfully with a dramatic role. It is a marvel that few if any tributes have been given to this comic and musical genius who left us in 1987 with an unparalleled legacy of laughter and love.
Perhaps the reason we haven't seen many cabaret tributes to Mr. Kaye has been the daunting level of comedic, dramatic, linguistic, and musical skills that would be required to do this subject justice. Last year, Nathan Lane performed his own Danny Kaye tribute with the Boston Pops. The Boston community is fortunate enough to have a second opportunity this weekend, this time performed by one of its own, John 0' Neil, in his cabaret show 'So Kaye, The Songs of Danny Kaye, at the Cambridge Center for Adult Education. I can't imagine a Boston area performer other than O'Neil, mounting a Danny Kaye tribute and pulling it off with such humor and jaw-dropping patter songs, making the evening completely entertaining and worth seeing.
O'Neil doesn't just string together a list of songs introduced by Kaye, counter to the show's title, but intelligently constructs an evening of song, anecdote, monologue, dialogue, and dance to show us the full range of marvelous talents the subject and O'Neil himself possess. O'Neil pulls the bulk of his material from the film "Hans Christian Anderson," and peppers the rest of the show with songs from films, shows, and recordings by Kaye, resulting in a finely spiced evening. O'Neil smartly omits references to the overly familiar film classic "White Christmas," offering us a show that eschews cliche and brings richness and depth to his subject. O'Neil manages to increase our affection and respect for Kaye without ever putting Kaye on a pedestal.
Humor from within
Two reasons O'Neil makes a perfect choice for a Kaye tribute are his skilled comic timing and extemporaneous patter. From his Roberto Begnini-style entry at the top of the show, to his story about his Irish grandmother and aunt, O'Neil scores nicely. It is clear the source of his humor comes from within. Several comic bits, however, didn't work quite as well as they need to. Frank Loesser's "Bloop Bleep" gets muddied by special effects, and seems to lack purpose. Also, the timing seemed off in the comic routine "The Vessel with the Pestle" from the film "The Court Jester," performed in the first show with special guest, Ida Zecco. With further rehearsal, however, I'm confident this vital piece will hit its mark.
Where O'Neil excels most, and is truly marvelous, is in his ability to memorize and recite in rapid-fire fashion impossible mouthfuls of lyrics. Kaye's career was full of such material, and O'Neil exploits it to great effect. Cole Porter wrote "Let's Not Talk About Love," specifically for Kaye, and O'Neil's delivery of the final verse is dizzying. O'Neil further dishes out the witty wordplay in "The Maladjusted Jester," written by Kaye's wife, Sylvia Fine. However, it is in the Ira Gershwin/Kurt Weill song "Tchaikovsky," from "Lady in the Dark," that O'Neil dazzles with a tongue-twisting tour-de-force. Do not try this song at home. O'Neil is a trained professional.
If I had to identify a weakness in this show, it would be that O'Neil worked so hard constructing a show bursting with information and lyrics that the work actually showed. The key to consummate professionalism in any performing art is to make it look easy. O'Neil has demonstrated numerous times in previous shows that he is an expert at making the impossible look simple. This time out, however, O'Neil seemed so distracted by the mountain of lyrics, numerous informative anecdotes, and even dancing, that his songs were conspicuously devoid of heart. I suspect a few more run-throughs is all it will take to allow his trademark sincerity to shine through.
Still, O'Neil achieves a dramatic high point not in song but in a poignantly rendered monologue, "Oif'n Pripetshik," from the 1981 film "Skokie." O'Neil takes full control here, rendering the tale of a holocaust survivor in such vivid detail that you could hear a pin drop in the room.
O'Neil's show was greatly enhanced by Ida Zecco's directing, which kept the pace solid and the focus true. Pianist Jim Rice lent his sharp musical direction and excellent arrangements throughout. Ilyse Robbins' choreography showed up in only one number, making the dancing appear more contrived than natural. Either more movement could be added to integrate dance better into the show, or the dancing should be cut altogether. O'Neil has away of giving his shows legs, and I imagine the more he performs this show, the more it will get under his skin, and so it will ours. This show, while a work in progress, is truly a labor of love, and worth seeing even now just for the wonderful way it informs us of the legacy left us by the great Danny Kaye, performed by one of the few artists who could bring it to us.
'So Kaye, The Songs of Danny Kaye will be performed again on November 18 at the Cambridge Center for Adult Education, 56 Brattle Street, Cambridge. Tickets are $12. For reservations, call 547-6789, x 1.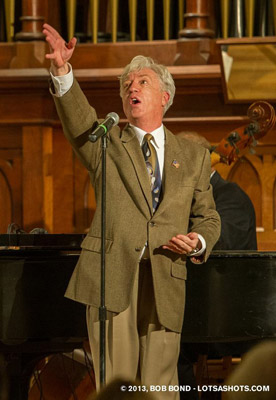 TheaterMirror.com, November 2001
Kaye Sera, Sera ... Hoorah!
Reviewed by Beverly Creasey
John O'Neil protests that he is nervous as he takes the stage at the CCAE's Blacksmith House ... which comes as a surprise because O'Neil looks the picture of composure. His new cabaret is a tribute to Danny Kaye called "So Kaye."
O'Neil comes across as a favorite uncle: urbane, dashing, witty, a man-about-town. Although he has a definite twinkle in his eye, O'Neil isn't the broad vaudevillian Kaye was ... but the object of the cabaret isn't to impersonate as much as to celebrate.
And O'Neil celebrates the ebullient funnyman in grand style, executing Kaye's most famous song to perfection: the Gershwin/Brewer tongue-twister "Tchaikovsky" from Lady in The Dark in which 54 Russian composers are rattled off at breakneck speed.
O'Neil shows off his funny bone (and his sly Noel Coward-ish delivery) in "The Fairy Pipers" ... which also contains a duet for piano (Jim Rice in fine fettle) and whistler (O'Neil can do everything!). No Danny Kaye tribute would be complete without the "Vessel with the pestle" patter from "The Court Jester." Chanteuse/Comedienne Valerie Sneade helped O'Neil out in the pestle department, and their outtakes were even better than the finished product. Then Sneade joined O'Neil for Frank Loesser's delightful "No Two People."
O'Neil knows his way around a lyric, and sang a gorgeous, simple, unaffected rendition of "Molly Malone" which made you rethink the song. Then he followed it with an exquisite "I'll Take You Dreaming." And the audience got into the act on Cab Calloway's "Minnie The Moocher."
After beginning the bittersweet Yiddish song "Oif'n Pripetshik" O'Neil stopped and performed Danny Kaye's breathtaking monologue from the TV movie "Skokie" in which Kaye's character remembers surviving, when his mother did not, in a concentration camp. O'Neil can handle a dramatic monologue as powerfully as he can bring a song home.
And I'm told the smooth, elegant O'Neil had the flu all week. That's one extraordinary performer.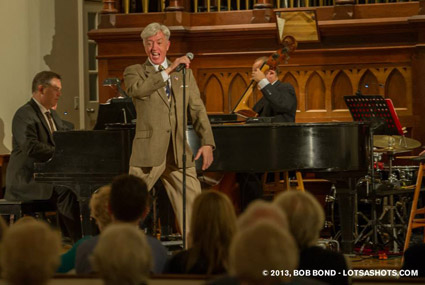 Digital City Boston, November 16, 2000
'So Kaye: All Kaye, all night.
All the world loved Danny Kaye. At least that's how the legend goes. From his Broadway debut in 1941 through his last film in 1981, the "toomler" of Brooklyn was one of the world's most beloved entertainers. Cabaret artist John O'Neil premieres his tribute to Kaye next week here in Boston.
Relive a bygone era through O'Neil as he eloquently takes you back to a long-forgotten time with Kaye's music from the '20s, '30s, '40s and '5Os. He opens the show with the title song from what is arguably Kaye's most famous film role, Hans Christian Andersen. What follows is a heartwarming hour reminiscent of the earliest television variety series. From "Inchworm" to "Minnie the Moocher," O'Neil skillfully weaves many of Kaye's most enchanting numbers into a show that is packed with emotion.
No stranger to the cabaret scene, O'Neill began his career more than 10 years ago here in Boston. The classically trained pianist quickly made a name for himself as one of the most flamboyant performers in the Northeast. Audiences everywhere have laughed till they cried and then laughed some more as O'Neil performed his vast repertoire of standards, show tunes and camp classics. His devilish wit and self-deprecating humor are never better than when he ventures out from behind the piano to practice the lost art of cabaret.
Few performers choose their music as carefully as O'Neil. Even fewer take the risk of exposing themselves so completely to the audience. In 'So Kaye you'll learn almost as much about John O'Neil as you will Danny Kaye.
One of the truest ironies of this show is that O'Neil, in his own way, has so many of the fine qualities that he is lauding in Kaye. He and musical director Jim Rice on piano have beautifully tapped into the legacy of laughter and love Kaye left behind for the child in all of us. Don't miss it.
TIP: Don't worry if you don't know the words to "Oif'n Pripetshik," John's got you covered.
-- Nick Dussault
Bay Windows, October 7, 1999
John O'Neil and Jan Peters' cabaret experience together paid off at Scullers on September 28
by John Amodeo
Boston is not an easy breeding ground for cabaret performers. Unlike other major cities, which offer a wide variety of clubs for performers to hone their craft, Boston is missing the important middle tier of venues, posing a huge abyss from open mike to premier cabaret room for local cabaret performers to leap. Thus tenacious performers must lead unconventional paths in order to bridge that gap.
John O'Neil and Jan Peters are two such performers whose journey into the spotlight has been by necessity both inventive and unorthodox. Over the years, both have performed separately and together in steak houses, restaurant lounges, elder care facilities, and private functions, sharpening their skills one methodical step at a time. Like the fabled tortoise, their patience and endurance has paid off. Having watched each of them perform over the past five or so years, it has been immensely satisfying to see O'Neil and Peters grow and improve with each outing.
A little over a week ago, on September 28, O'Neil and Peters crossed the abyss, performing their show Beyond Broadway for one night only to a near capacity crowd at Scullers Jazz Club in Boston. Before a note was uttered, their confidence and winning smiles foretold the evening of delight ahead. With no particular through-line, O'Neil and Peters seemed to mine the bin of the American Songbook, digging deep for those small gems that settled nicely to the bottom. Opening sweetly with a Richard Rodgers waltz medley, O'Neil and Peters displayed their vocal and harmonic skills in the pairing of "Do I Hear a Waltz" and "It's a Grand Night for Singing" richly arranged by Chard Wierwick.
Still, the show seemed off to a somewhat bumpy start. Scullers' resident sound engineer, David Marins, initially had the singers' mikes set with too much reverb, resulting in some hollow-sounding vocals in the opening set. While this was resolved shortly into the show, other sound problems were evident throughout, suggesting that Scullers rethink its sound booth location to ensure more even quality.
That said, both O'Neil and Peters had no trouble rising above the tide of technical difficulties. They whipped Kander and Ebb's "Coffee in a Cardboard Cup" into a caffeine-stimulated frenzy, and kept the antics high in the zany tour-de-force "Readers Digest," Comden & Green's witty commentary on condensed classics.
Together and alone
Though presented as a team show, the event was carefully structured to feature the considerable individual talents of each performer, offering back-to-back solos sets, beginning with O'Neil. O'Neil was immediately likeable, as he fully embodied the spirit of the buoyant standard, "A Lot of Livin' to Do" (Strouse/Adams) from Bye, Bye Birdie. But O'Neil was at his best when wearing his heart on his sleeve, such as in the moving piece "Disneyland" (Marvin Hamlisch/Howard Ashman), where he built moments slowly but surely, bringing us with him every step of the way. Seizing the moment, O'Neil next told us the poignant story of Agnes, an elderly resident of a nursing home who wanders aimlessly from room to room, wondering which is hers. Slipping seamlessly into the tender "A Place Called Home" (Menken/Aherns), O'Neil deftly created one of those pin-drop moments, all the while showing that Lynn Aherns' eloquently simple lyrics can have meaning on many levels. O'Neil has a warm Peter Allen-like quality voice that rang with sincerity throughout. Anyone who knows O'Neil also knows he is a funny man. His physical comedy and dead-pan antics came into full play in John Patrick Schutz' clever "Titanic," which, in five minutes, creates a full-blown musical version of "Titanic" this time with hilarious rewritten lyrics to familiar songs from famous musicals (Cats, Mame, Into the Woods, Les Miserables).
Before transitioning to Peters' set, O'Neil and Peters gave us a glimpse into their long-standing friendship in the duet "Sherry," which seemed tailor-written for them. In the song, Peters offers juicy gossip to the bedridden O'Neil, perfectly mirroring this past summer when Peters nursed O'Neil, who was convalescing from back surgery. Smartly, they only teased us with their friendship, building the suspense for the final act.
For Peter's set, she served up a selection of tasty treasures, some less familiar than others. Now, Peters could sing the phone book and sound like she meant it. Her sweet renditions of the Burke/Van Huesen chestnut "It Could Happen To You" and the searing ballad "Hero" were laden with subtext, convincing us Peters has lived these songs, even if we can't put our finger on what particularly. Peters has amazing control of her vocal instrument, moving easily from lilting to belting in smooth transition. She is also smart enough to know to let the lyrics inform her choices, rather than belting Star-Search style at the first opportunity. For instance, she slowly unfolded her vocal power in a bump-and-grind arrangement of "Shine on Harvest Moon" that built until it had the audience cheering. Peters, who can also be funny, introduced the final song in her set as a piece she sang at this summer's Cabaret Symposium, not knowing that one of the attending Symposium teachers, Sally Mayes, had recorded the same song. Peters has nothing to worry about, as she offered a riveting version of Cy Coleman's "In the Name of Love," easily making it her own.
Unfaltering devotion
In the closing set, O'Neil and Peters declare their unfaltering devotion to one another in two carefully chosen lyric conversations. The earlier duets, and even the affectionate "digs" during their solo sets (at one point, Peters described O'Neil, getting serious in a moment of conflict between them: "so he takes off his boa..."), only hint at the mutual admiration we finally see in Cy Coleman and Ira Gasman's "People Magazine" from The Life.
One notices that in their duets, it is not so much the blend of their voices but the blend of their spirits that makes them such a perfect team. Unrehearsed gestures, as when Peters unconsciously and tenderly grasped O'Neil's hand in the final verse of "The Memory of Tonight," are the gossamer moments that cabaret audiences find so rewarding.
Throughout the evening, O'Neil and Peters were wonderfully accompanied by Pianist Jim Rice, who was a last minute replacement for their musical director, Tom LaMark, some of whose fabulous arrangements contributed greatly to the show. Frank Suart on bass and Jim Gwin on percussion provided excellent support. While Mike Monaghan's woodwind accompaniment was sweetly rendered, more often his sax playing combined with Dave Burdett's trumpet playing drowned out the vocals. The small stage at Scullers forced the horns to the front, directly under the singers. Perhaps in such venues, Peters and O'Neil might consider scaling their band to three pieces or just piano.
Beyond Broadway is intelligently structured and, quibbles aside, a highly entertaining evening of cabaret. Their well balanced and well matched skills make John O'Neil and Jan Peters a dynamic team. Catch them together or separately. Either way you will be in for a treat.
Home | John O'Neil | Schedules | Recordings | Videos | Reviews | Press | Interviews | AtLast! | First Mondays | Photos | Contact